Weight Loss Benefits of Stair Climbing
Do you exercise regularly? Have you ever tried stair climbing? Unknown to many fitness gurus, climbing a flight of stairs is a complete workout that is an ideal regimen for fitness and weight loss. Stair climbing is even considered a sport, a true sign that it's beneficial to health.
Wikipedia reports a recent close study with regards to oxygen uptake and heart rate, researches estimated that ascending a 15cm step expends 0.46 kj for average person. While a descending step expends 0.21 kj. This concludes that a stair climbing activity met a minimum requirements for cardiorespiratory benefits. The research has also proven that stair climbing can be a perfect alternative for any physical activities.
Climbing stairs on a regular basis is an effective way to burn calories, thus resulting to weight loss. One of the advantages of a stair climbing activity is that, it doesn't require any special equipment  similar to walking and jogging activities. All you need is your effort and dedication to do this exercise and of course, find a stair or any steep places that could help exercise your body.
How stair climbing can strengthen your body?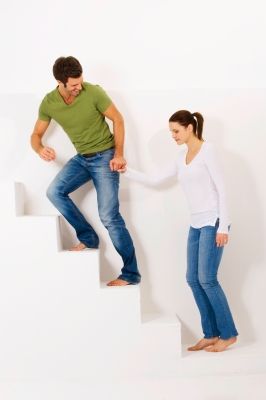 Like any other usual exercise, stair climbing can improve your upper and lower body strength. Arms will become much more stronger because of pulling up using the rails. But stair climbing is best for developing legs muscles including quadriceps and calfs. This type of exercise is works the cardio-vascular lung package.
Stair climbing became one of the best regimens for cross-training for athletes such as swimmers, cyclists, boxers and many others. It helps you to improve your stamina and muscular strength. Stair climbing is a low-impact exercise, ideal for people who are just getting started to get in shape.
Comments