Tips to Enjoy Eating While Losing Weight
If there is one activity that you can truly enjoy for life, it must be the pleasure of eating. However, eating any food you like will give you various health problems including weight issues.
So to have a fitter and enjoyable life, a regular healthy dieting program is a must. However, dieting is not that easy as it seems. More and more people are failing big time with regards to dieting because of lack of knowledge or depending too much on food restriction.
If you want to achieve good health and avoid any weight issues, you need to learn how to apply a different dieting approach that will improve your over-all health. Try these practical tips for a change.
Practical Tips on How to Enjoy Eating while Losing Weight
Be Realistic on Your Goal
Having a goal should be a part of your motivation strategy, which will help you overcome overeating. You need to identify how much weight do you want to lose. If you don't know how to calculate how much you need to lose, then you can try hiring a professional dietitian or use a weight loss calculator to organize your diet program. Planning everything is crucial if you want to have a healthy and fit body.
Act Now!
Once you have a dieting plan set up, you need to act right away and start your program. What is the use of having a goal without any action? Most dieters failed because they are not ready enough to put their plan into action. Once you pondered about the many benefits of healthy eating, then it will drive you more to act right away.
Eat What You Love, Love What You Eat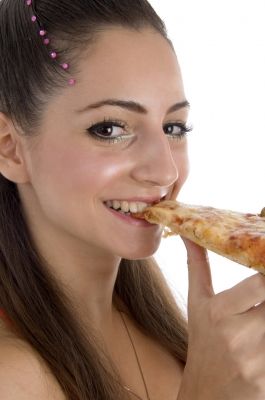 Doctor Michelle May said on her book "Eat What You Love, Love What You Eat", that eating foods that you love have various positive health benefits including proper weight management. It also help uplift your inner spirit while improving your mental health, which are probably due to the feeling of satisfaction you get from foods.
Although an unusual way of dieting, it is better to double up your exercise routines to neutralize the fat and calories that you consumed. Plus, it is better to pick healthy foods that you "love", rather than unhealthy ones just to follow this tip. Still, this method is a practically whole new approach that may help you lose weight effectively.
Cook and Prepare Your Own Food
Cooking and preparing your own food have too many benefits especially if you are health conscious. You know what ingredients you are putting on your food, which makes it a perfect healthy meal for you. With regards to preparation, you can prepare portion sizes that will help avoid overeating.
Summary on How to Enjoy Eating While Losing Weight
You are not necessarily required to watch over your diet consistently just to achieve your goal. If you want to lose weight and keep it off for good, you still need to workout which will support your diet regimen. If you want further assistance, then choose from these trusted online dieting plans.
[box title="#1 Weight Loss Pill of 2013″ color="#e28848 "]
Our #1 rated diet pill. Proactol Plus is guaranteed to help you lose weight by effectively binding 28% of your daily fat intake. This will enable you to manage your weight more easily unlike any other hyped products out there.
Proactol is composed of the best organic ingredients that are known to help aid weight loss without any side effects. This pill is clinically proven effective and safe for your weight loss program
[/box]
Comments