Simple Tips to Maximize Your Treadmill Workout
There are hundreds of fitness equipments that are designed to keep us fit and strong. There affordable home equipments and there are expensive ones. With today's sedentary lifestyle, each of us needs our own home gym equipment to help maintain a healthy body.
There is no doubt that treadmill is still the best and the most in-demand fitness equipment of all time. Treadmill is a great cardio workout machine that can help improve your stamina, lower body and over-all health.
So to get a full workout potential with your treadmill machine, below are simple tips that can help improve your workout program to another level.
Simple Ways to Maximize your Treadmill Workout
Tip# 1 – Know your Treadmill's Full Features
Your purpose of buying a treadmill should not only focus on jogging or running routines. You need to know your treadmill's full workout potential. Its features will give you different variations of cardio workouts that will give different approach on how you exercise on your treadmill.
The best treadmills are those who have incline and decline running features. This include the latest LifeSpan brand model TR4000i folding treadmill. Remember, using your treadmill's default settings is not enough to get a perfect cardio workout.
Tip# 2 – Set Intervals
Interval training is a good strategy if you are using treadmill for your workout. You can incorporate intense treadmill workout for a set time with short or less intense exercise. According to LiveStrong, doing time workout intervals can increase your caloric expenditure through post exercise oxygen consumption. This means that you are burning more calories during and after a treadmill workout session.
Tip# 3 – Apply the Chi Running Technique
Chi Running was invented by Tai Chi practitioner and marathon expert Danny Dreyer. Chi Running is a combination of Tai Chi techniques and proper running posture, which is designed to achieve a perfect mental and physical workout.
Chi Running techniques includes proper running with heel-to-toe technique, posture and many others. Using this technique on your treadmill will definitely maximize your cardio workout.
Tip# 4 – Shorten Stride and Relax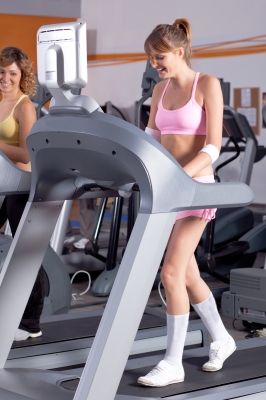 Walk or run in a more relaxed movements in conjunction with good arm movements is a much better way to use your treadmill. Thrusting forward, grabbing handrails or rushing to get sweat are all counterproductive according to some research.
Also, taking longer stride is what most treadmill users perceived to be beneficial. However, it is the opposite. Keeping a shorter stride will give you more steps per minute, which enables you to go much faster and leads to more fat and calorie burning action.
Tip# 5 – Monitor your Progress
Monitoring your progress is essential to your weight loss or fitness program. Never miss any important details as this could delay your road to success. Analyze every information and improve the departments that you think are causing you problems. This includes adjusting your exercise duration, intensity procedures, density and many others. You will see good results if you see your actual progress on the scale or on your weight loss journal.
Conclusion
Maximizing your treadmill's potential and your workout program will lead to fitness success. With treadmill's getting more expensive each day, it is crucial that you take every advantage you can get from these machines.
Also, don't forget to perform warm up before your workout and a cool down after workout. This will prevent muscle injuries especially on your lower part of the body. Keep hydrated by drinking lots of water every workout.
[box title="#1 Weight Loss Pill of 2013″ color="#e28848″]
Our #1 rated diet pill. Proactol Plus is guaranteed to help you lose weight by effectively binding 28% of your daily fat intake. This will enable you to manage your weight more easily unlike any other hyped products out there.
Proactol is composed of the best organic ingredients that are known to help aid weight loss without any side effects. This pill is clinically proven effective and safe for your weight loss program.
[/box]
Comments