How to Tighten Skin After Weight Loss
Have you ever felt the joy and satisfaction of reaching your weight loss goal? If yes, then you probably had undergone different rigorous challenges and strict dieting regimen just to achieve fitness success.
A successful weight loss campaign is what most people dream of because it is such a difficult task. However, if you are severely overweight individual, winning against weight gain will pose another challenge for you – sagging skin.
Tightening up those loose skin after weight loss is another problem for dieters and weight loss seekers. If this sounds like you, don't worry, there are simple solutions to your problem that will help you deal with loose and ugly sagging skin.
Tips to Tighten Up Skin After Weight Loss
Lose Weight while You're Young
If you are still young but fat, the right time to lose weight is now! Why? Because as we age, our skin will naturally lose its elasticity. So losing weight at middle age would not give you total satisfaction at all because your skin won't have the ability to tighten up on its own naturally.
Don't Rush to Lose Weight
Have you heard the term "slowly but surely"? Losing weight in a slow manner gives more benefits to your weight loss program. In contrast, rushing to lose weight will result to sagging skin because abrupt result is not good to your skin. So remember to take your time losing weight and don't rush.
Do the Basics of Skin Care Program
If you want to overcome those ugly sagging skin after a successful weight loss, then you must apply a consistent skin care regimen and make it your first priority. The basics of course are similar to weight loss program – you exercise, eat right, drink lots of water and rest. You should also lessen all the stress in your life if you want a healthy skin.
Skin Tightening Products
Skin care products includes lotions, creams and ointments that are designed and formulated to help treat sagging skin. It is easy to grab any skin tightening products, but there are different factors that you need to consider when choosing a skin product. This includes your skin type, your environment, the product's ingredients and many more.
Have Frequent Body Massage
A body massage won't just invigorate you physically, it can also help tighten up your skin. Reports suggests that frequent body massage can help treat sagging skin on upper arms and thighs. So if you have time and money, look for the best massage parlor near you.
Lift some Weights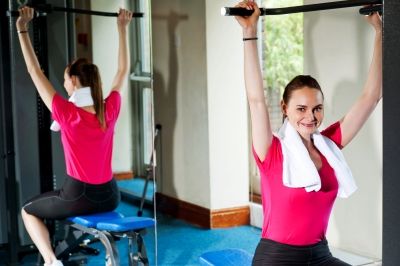 Weight training is one the best ways to help tone and tighten skin, because it primarily builds muscles which replaces your lost fats. You don't need to worry about building up your body too much, just don't over work yourself in the gym and you'll be okay.
Conclusion
Get more accomplished on your weight loss campaign by completely dealing with sagging skin naturally. There are many other ways that you can do to treat sagging skin after weight loss. There are only three important aspects that you should remember in order to treat sagging skin. These are the following:
Skin care
Exercise
Healthy diet
If you think that all of these tips doesn't work on you, then you may want to consider cosmetic surgery. However, I am not a fan of surgeries so I advise you to strive hard on these three principles especially after a successful weight loss, only then you will have a higher chances of tightening up your skin naturally without surgery.
[box title="#1 Weight Loss Pill of 2013″ color="#e28848 "]
Our #1 rated diet pill. Proactol Plus is guaranteed to help you lose weight by effectively binding 28% of your daily fat intake. This will enable you to manage your weight more easily unlike any other hyped products out there.
Proactol is composed of the best organic ingredients that are known to help aid weight loss without any side effects. This pill is clinically proven effective and safe for your weight loss program.
[/box]
Comments