Boxing and Weight Loss – The Perfect Pair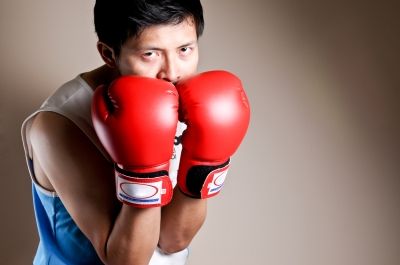 You probably know that I am a Filipino based on my profile which is located in this site's footer. Majority of Filipinos are boxing enthusiasts, thanks to the inspirations brought by Filipino world champions specifically Manny Pacquiao, the only 8-division world champion in boxing history.
Well, many people agrees that boxing is the hardest sport and I am sure that you won't disagree as well. Boxers live and die in this brutal game. But I am not encouraging you to enter the world of boxing as I am not a boxer myself. This article will give you information on how you can effectively lose weight through the sport of boxing.
Is boxing a good weight loss workout?
Boxing gyms can be seen anywhere because of its popularity and it's now a trending way to get fit and lose weight. Unknown to many, boxing is not just punching and weaving and it's not your casual gym with full of weights and exercise equipments. Boxing is all about whole body workout that involves stamina strengthening, muscle toning, stretching, footwork, pain resistance, flexibility and many others. This is the reason why this sport is one of the best exercise regimen for weight loss enthusiast.
Thousands of people have testified that boxing can really help them lose weight. The workout intensity is sequential depending on your abilities, so you are not physically forced to do boxing routines. The following are some of the boxing workouts that you can do.
shadow boxing
speed bag
jumping ropes
punching bag
punching ball
mitts
weight training
boxing sparring
abdominal crunches
punch variations
jogging
weaving exercises
As you can see, boxing is a total body workout which can help you lose weight faster than any kind of sports. To be a better boxer, you need to sharpen your skills, stamina, endurance, strength, body coordination and punching accuracy. All these factors contributes into a very hard workout which discourage other people to at least try this workout regimen. Of course, like any other exercises, the harder the workout, the more calories you burn. So losing weight depends on your level of motivation on how you would like to lose those pounds fast.
Benefits of boxing aside from weight loss
Have you seen overweight boxers? No, those heavyweights that you are thinking are not overweight but are physically fit. Boxers are trained to build some muscles while not losing their reflexes and punching power. That is the difficult part of being a boxer. At least we can say that 99% of boxers are not overweight, that is if we are talking about real boxing athletes who use boxing jump ropes properly.
Again, I am not encouraging you to be a professional or amateur boxer because you certainly can't train like a pro immediately. But practicing some boxing workouts can relatively give your body a different kind of fitness that no other sports can deliver. Below are some of the benefits of boxing.
sharpens your mind
faster reflexes
stronger punches
improves body coordination
tones the muscles correctly
improves immune system
gives good posture
improves flexibility
Boxing is a wonderful sport but it also involves controversy, corruption and other business-related ideology. Boxing as a whole is dying because of the corrupt judges and other factors that makes it a cheap sport. However, that is not our main concern as our objective is to benefit from boxing's different workout program. If you want to lose weight fast and as safe as possible, then do some boxing and you are guaranteed to have positive results.
Comments