Body Solid EXM3000LPS Double Stack Home Gym Review
Do you like a perfect gym equipment that will practically serve all your workout requirements? If yes, then this post is for you. I will give you a detailed information on one of Body Solid's home gym equipment line – Double Stack EXM3000LPS.
I previously published an overview about the EXM4000s Triple Stack Home Gym, practically a true monster workout machine. But if you want more less expensive but can produce similar result, then the EXM3000LPS Double Stack model will be the perfect fit for your personal home gym.
Editor's Tip: Click here and learn how you can lose weight fast with Phen375.
EXM3000LPS Double Stack Home Gym Overview
Body Solid, one of the leading manufacturers of high quality fitness equipments for both home and commercial markets, showcases another impressive product that offers both compact and space-saving tool designed for private home use, the EXM3000LPS Double Stack.
This equipment is a multi-station tool, much like the EXM4000S Triple Stack, which can load three people simultaneously. It includes a multi-function press arm station,which provides traditional routines such as bench press, shoulder press and chest exercises.
It also feature a fully-adjustable perfect pec station, equipped with range limiters that enables users to achieve deeper muscle workout for quicker and more toned muscles. The leg/calf press station focuses on a two-to-one weight ratio, making EXM3000LPS to withstand a 429 lb leg press.
The image on your left shows a very thick and durable DuraFirm brand pads, which are specially contoured for lumbar support. Each pad are popped-in and the pivot-point feels natural and of course ergonomic.
The weight stacks are not hard to reach, resulting for a quick and safe weight selection. A rubber-encased foot-plate is provided for heavy-gauge steel, basically to avoid unintentional slips and safe operation.
Over-all Features of EXM3000LPS Double Stack Home Gym
Multi-Press Station
EXM3000LPS is composed of three stations, all of which have adjustable pads to suit any user's size. This product is structurally and biochanically designed to work on major body parts such as your back, chest and shoulders and offers full range of motion exercise for a complete home workout experience.
Leg Press/Calf Press Station
Consist of two unique bar linkage which self-aligns the angle of the leg press to your body, avoiding any ankle injuries and ensuring right biomechanics throughout your workout.
Also includes a pillow pad and sealed ball bearings for more precised exercise alignment and friction-free movement.
Perfect Pec Station
With dual overhead cams and six increment settings per arm, EXM3000LPS provides different starting positions and allow fine-tuning for accurate pre-stretch with full biomechanical movement. It also ensures total development of pectoral and rear deltoid muscles.
Lat Pulldown / High Pulley Station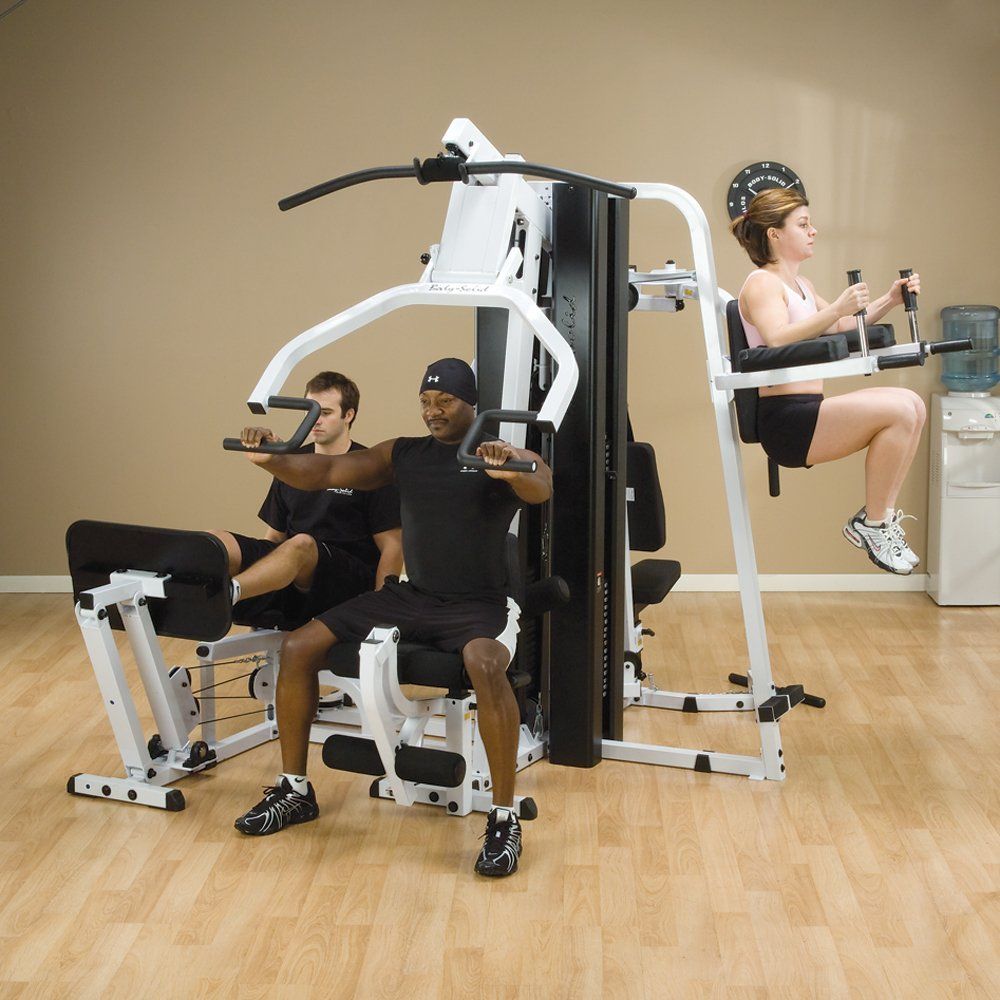 This feature is ideal for size, strength improvement and for toning your back, shoulders and triceps muscles. The easy-access hold-down rollers will fit every size user without any conflict.
Ab Crunch / Mid Pulley Station
This feature aims to work your core and develop a lean and muscular waist line with complete isolation of your abs and oblique muscles. The EXM3000LPS allows you to work your middle section in a comfortable zone.
Leg Extension / Leg Curl Station
Cam-driven leg developer focuses on your quads and hamstrings, while improving your knees through accurate biomechanical form. Truly the perfect tool for lower body workout.
Seated Row / Low Pulley Station
This feature is necessary to work your back. Seated row routines help develops your middle back and train those hard-to-reach lower lats. The low pulley swivels smoothly to provide precise resistance designed for cable curls, upright rows, shrugs, leg abduction and many more.
Dual 210-Pound Alloy Steel Weight Stacks
A must feature for every home fitness equipment. EXM3000LPS is consist of two 210-pound alloy steel weight stacks, which are equipped with nylon bushings, intended for smooth and quiet workout.
DuraFirm Pads
When it comes to padding, you need to trust DuraFirm. This equipment uses durable and tear-resistant DuraFirm pads, all of which are doubled stiched and perfectly sewn to overcome all types of usage. DuraFirm pads are high density and top grade pads that guarantees long lasting use and are not easy to wear out.
Weight Stack Shrouds
EXM3000LPS is also equipped with two full length, solid steel shrouds, which completely encompasses each weight stack to take its appearance to another level. Plus, these shrouds are made to ensure safety and comfort.
Is EXM3000LPS Double Stack for You
So the question remains, will it work for you? Will it help you lose weight and get fit? Of course, the answer will always depend on your motivation to succeed. Every fitness equipments have the potential to be your best workout buddy, but it all depends on how you consistently workout.
With these features, you will have a complete machine that will essentially work your whole body in a breeze, soothing way. EXM3000LPS is just one of the few fitness equipments that you can completely depend on, especially if you are looking to tone and improve different muscle parts.
With Body Solid, you will have a reputable fitness equipment maker that is known for its work. Rest assured that EXM3000LPS will effectively help you lose weight and get in tip-top shape fast.
Plus, Body Solid offers a limited lifetime manufacturer's warranty. This feature will give you another good reason why you should love EXM3000LPS. So you don't have to worry about any factory defects, both in material or workmanship.
Where to Buy Body Solid EXM3000LPS Double Stack Home Gym
You can purchase Body Solid EXM3000LPS Double Stack Home Gym on Amazon. Amazon exclusively distributes every Body Solid equipments online. Of course, Amazon is a trusted household name when it comes to online retailing.
If you buy EXM3000LPS right now, Amazon can give you special discounts and other privileges such as free shipping or financing payment method if you are an Amazon Store card holder.
Comments