Advertise
Totalweightlosstips.com is now open to advertisers who wants to improve their business presence online. If you have products or services that are related to fitness, dieting and weight loss, this is the best place to market your business.
The site currently has Google page rank of 1 but have a strong Alexa rank of 686,358 as of January 07, 2013. This means that this site receives a decent amount of visitors ranging from 120 – 250 unique visitors daily. Each day, its ranking increases along with its traffic which are composed of 70% search engine traffic mainly from Google. The rest are from social medias like Facebook, Pinterest, Twitter, Digg and many others.
Keywords rankings in Google.com as of January 07, 2013:
total weight loss tips – 1st page / 1st rank
total weight loss – 1st page / 5th rank
weight loss tips – 18th page / 174th rank   *very competitive term (previously 4th page)

This site is also ranking first on several long-tail search terms with regards to weight loss topics, products and many others. As per the information above, you can see that we are working hard just to reach the best possible keyword rankings in Google. We are expecting to reach page one for the keyword "weight loss tips" in the coming months, including an increase in page rank.
The site's over all traffic are organic and targeted to any information with regards to weight loss. These visitors are all willing to spend and have big interests in various fitness, slimming or any weight loss products that your business offer. Totalweightlosstips.com can get those sales for you!
Since this site is slowly becoming an authority in the fitness industry, I am offering you the best and lowest advertising packages you will ever encounter online. Choose from the packages below and take advantage of this offer because we will surely increase the price in the coming months.
Advertising Packages
728 x 90 banner – (not available)

728×90 or commonly known as the leaderboard, is one of the best and most profitable ad space according to Google. This advert will appear site-wide and is located above the fold.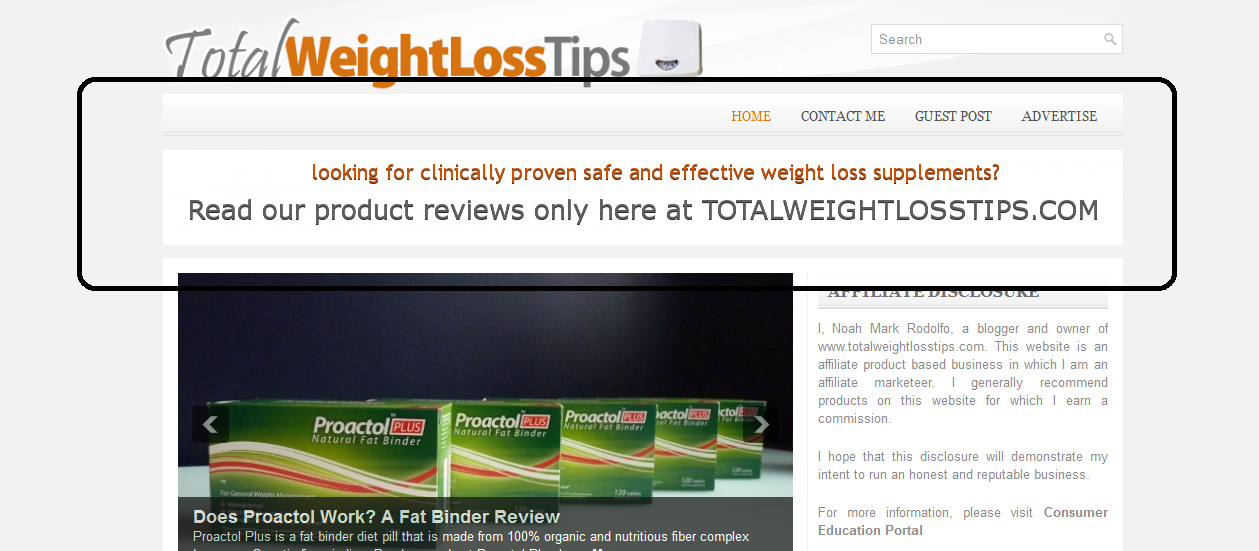 $25 per month (plus 3.5% Paypal fees)
Attribute: nofollow (as per Google terms)
250 x 250 Square banner
Square banner is located below my Affiliate disclosure widget along the sidebar. Sidebar is widely used in any websites or blogs, making it a profitable area. This advert is visible site-wide.
Price:
$25 per month (plus 3.5% Paypal fees)
Attribute: nofollow (as per Google terms)
160 x 600 Wide Skyscraper banner
Wide Skyscraper is another advert that is highly profitable. This space is located at the right sidebar below the Post Subscription area. Your ads will be visible site-wide.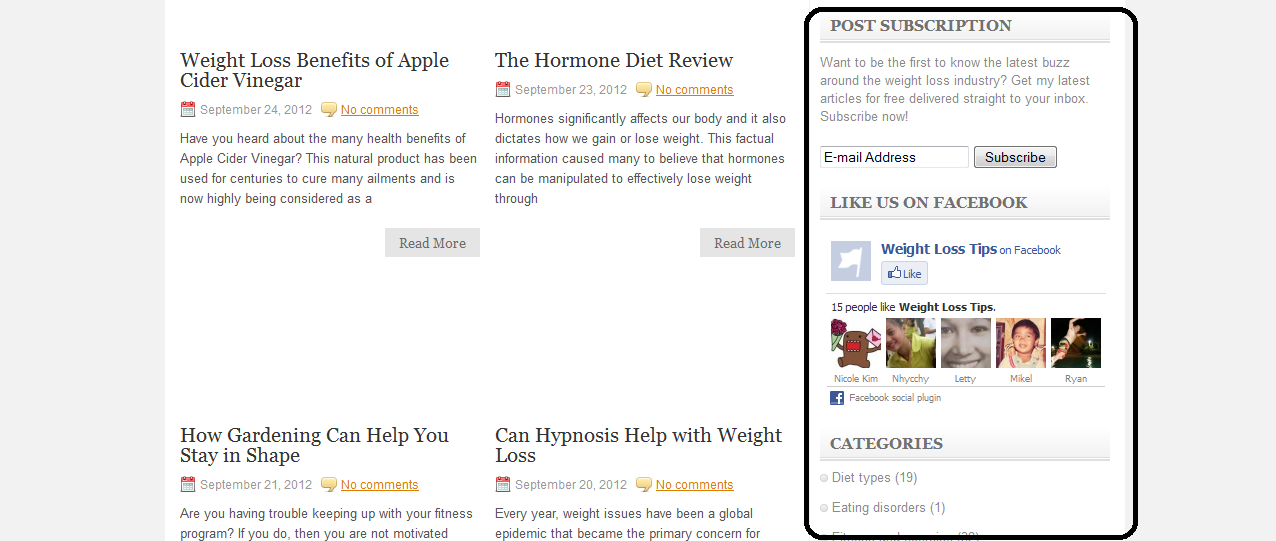 Price:
$25 per month (plus 3.5% Paypal fees)
Attribute: nofollow (as per Google terms) 
Guest/Sponsor Post
Guest posting is one feature of this site that you can take advantage of. If you have weight loss site or product that you want to promote, you can write an article and publish it here to improve your Internet exposure. You can read the guidelines here.
Price:
$50 + plus 3.5% Paypal fees – permanent article
These prices are not permanent and will change without notice. For other ad types such as text links, product reviews, single post banners and many others, please send a message inquiry below or pitch as an email at our contact page.
If you are interested in availing any advertising package above, please contact us and send your payment to this Paypal address – admin@totalweightlosstips.com. Your ads will be live within 24 hours upon payment receipt.